HARDWOOD TIMBER SPECIES
Most decking timbers species are available in narrow and wide boards (86mm and 135mm).
Nothing can compare to the natural beauty of a hardwood deck. We love working with natural products, and especially love Australian hardwoods. We sand and oil every timber deck we build to highlight and preserve timbers natural good looks.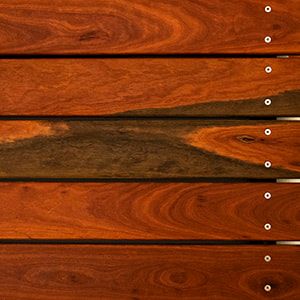 Ironbark is a very dense very hardy premium Australian Eucalyptus that is rot and fire resistant. It is grown in NSW and Southern QLD. It has wide variation in colours. Predominantly deep red with sections of silver grey, pale yellow and mahogany.
Origin- NSW and QLD
Janka Rating- 14
​
​$$$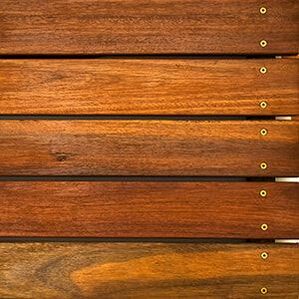 Spotted Gum is a popular premium hardwood decking timber with unique grain features. Spotted Gum is dense and hardy. Colours vary from pale brown and cream to rich chocolate brown. Spotted gum is gaining popularity as the demand for local sustainable hard wearing timber increases.
​Origin- NSW and QLD
​Janka rating- 11
​
​$$$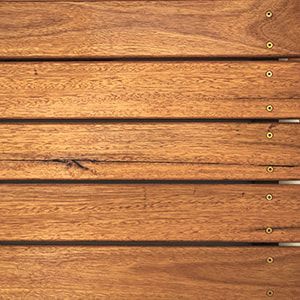 Blackbutt is dense and long lasting with a lighter tone than most Australian hardwoods. Pale cream to pale brown in colour, with occasional tinges of salmon, Blackbutt lightens further in the weather if left untreated.
​
Origin- NSW and QLD
Janka rating- 9.1
​
​$$$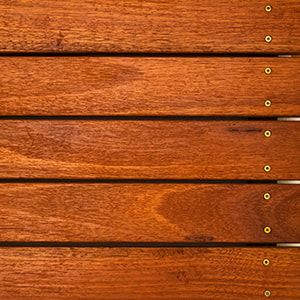 Karri / River Red is fairly dense and straight grained. It's colour is soft red to mid brown, with some pale pink. It often has more colour variation than shown left. Karri is a much under rated Australian hardwood. It is a fantastic timber at an affordable price.
Origin- WA
​Janka rating- 9.0
​
​$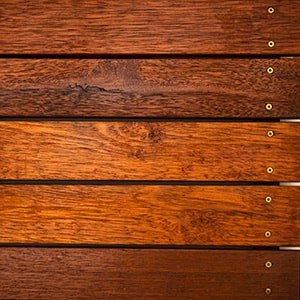 Merbau is an imported tropical hardwood. It is fairly evenly coloured from deep brown to mahogany with flecking throughout the grain. Merbau has a lot of natural tannin helping to protect the timber from the elements. Merbau has become very popular recently due to its high quality and affordable price.
Origin- South East Asia
​Janka rating- 8.6
​
​$$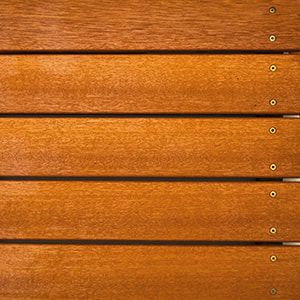 Kapur is an imported hardwood. Kapur is the softest hardwood we source. It has very straight even grain. The colour is light reddish brown. Kapur is an entry level hardwood that was once quite popular. 
Origin- Malaysia
Janka rating- 7.5
​
​$
Other timber options such as Jarrah, Thermory, Treated Pine, ACQ Pine, Cypress Pine, Tallow wood, Bamboo etc etc are available in decking boards. If there is a particular species you would like, let us know and we will attempt to source it for you.
Janka rating is an industry standard hardness test. This determines the ability of a particular species to withstand denting and wear. The higher the rating the harder the timber.
COMPOSITE DECKING
Composite decking is gaining popularity due to its low maintenance, high fire resistance and longevity. All composite decking boards are available in a collection of colours. Composites are made from a combination of recycled plastic and wood dust. Composites are virtually maintenance free, and are especially well suited to pool areas and close to the coast. Most composites are slip and fire resistant, and come with long warranties. Below are some of the best composites available.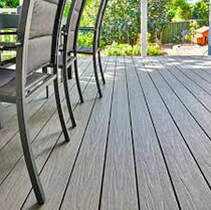 NewTechWood (Metro range) has a natural look and feel with great variation of colour and grain detail. New Tech Wood is scratch, fade and mould resistant. It is available in 5 colours. New Tech Wood comes with a 25 year warranty, and is a great composite with a mid range price.
​$$$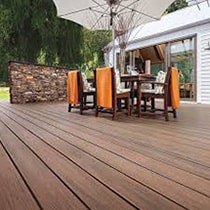 Trex (Transcend range) has good colour variation, but little grain detail. Trex is fade, mould and scratch resistant and comes in 5 colours. Trex carries a 25 year warranty.
​
​$$$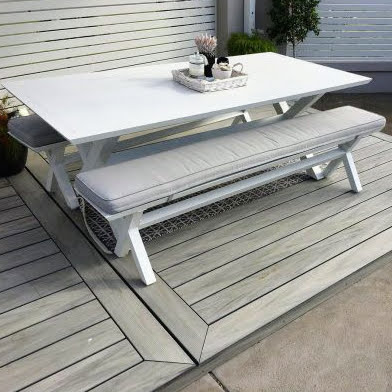 PermaTimber is a solid composite decking boards. It has an embossed finish one one side, and a brushed finish on the other. There is some colour variation in Permatimber giving it a more realistic look than most solid composite decking boards. Permatimber is available in 3 colours and a width of 146mm
$$
Other Composites are available- NextGen, ModWood, HardiDeck, Millboard, Oziwood, FutureWood, EkoWood, KnotWood, DecoWood, EcoDeck, EzyWood etc etc are all available in Australia. If there is a particular composite you have in mind, get in touch. We can share any knowledge we have on it, and provide a quote for you. 
Due to bad experiences in the past there are some composites we will not work with.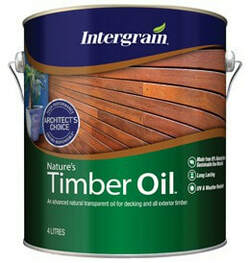 Intergrain Natures Timber Oil is a natural, transparent protective oil. Made of 95% naturally derived ingredients from sustainable sources. We oil the back of every timber decking board before it is installed. We also sand and oil every timber deck on completion. An additional coat is highly recommended within a week, and then every 6 – 12 months. Nature's timber oil penetrates deeply to give a natural, protective finish to external timber. Tung oil and wood turpentine in Natures Timber oil provide natural resistance to the destructive effects of UV, water, and mould. Natures Timber Oil will not flake, peel or crack. Nature's timber oil is available from Bunnings or directly from Spruce. It is best applied with a decking brush or wool mop.